News 19/4-2018: PolySpaze SoundScapes presets are now available.
News 14/4-2018: New PolySpaze update are now available.
EuroBoard -Eurorack for FilterBoards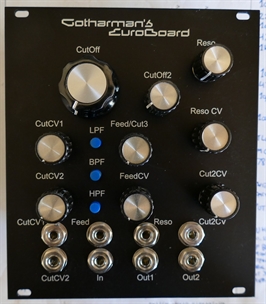 Eurorack module for The Anamono X series analog FilterBoards. It is easy to replace the filterboard, to get new flavours in your eurorack.

Size: 22hp. Current draw: Up to 100mA, depending on filterboard.

THIS MUST HAVE A FILTERBOARD INSTALLED, TO PRODUCE SOUND!

Lead time: Around 2 weeks